Tynon is an RPG that was created by uCool. It's official trailer was released June 15, 2012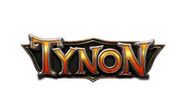 Plot:
The Dark Wizard Wyrm has somehow bewitched the king, leaving the land of Tynon in turmoil. Allies have become suspicious and a knight named Rosaline has taken up the quest to rescue the king and restore order. To achieve this goal , she'll need your help to rebuild a shattered city and lead the army into battle. You'll have to tr
averse all 13 kingdoms of Tynon, finding allies and defeating foes along the way to uncover the evil wizard's plot.
The lands continue to burn while wicked goblins roam free, serpent queens plague Verdant City, and the kingdom is threatened by disaster and slavery. Players must also help Rosaline rebuild the Imperial City to its former glory. With the cooperative ability to enlist the aid of friends from Facebook, Twitter and other social networks, pl
ayers can upgrade and customize their cities and gain resources by visiting neighboring towns. Hundreds of quests will be available to earn more resources, gold and gems to upgrade your city, armor and battle skills
Ad blocker interference detected!
Wikia is a free-to-use site that makes money from advertising. We have a modified experience for viewers using ad blockers

Wikia is not accessible if you've made further modifications. Remove the custom ad blocker rule(s) and the page will load as expected.