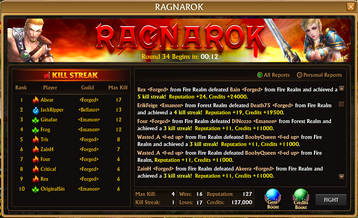 Are you ready for a battlefield that surpasses the Arena!? Get ready for the Ragnarok.
The Basics
Edit
Before you head into battle power yourself up with boosts using Credits and Gems. As with all other battlefields you can boost yourself with Credits up to a max of 80%. Once you hit the 80% mark using credits you can use Gems to get your boost up to 100%. Keep in mind these boosts are a game of chance. Spending Credits and Gems DOES NOT guarantee you will get a boost to your power. You may potentially spend hundreds of Gems and millions of Credits to get these boosts.
The menu is broken down into 3 sections.
Kill Streak
Edit
You can find Kill Streak rankings here by Rank, Player, Guild and the number of Max Kills by any one individual.
Battle Reports
Edit
Sort by All Reports to see all battle report notices generated by everyone participating in the Hunger Games or you can sort by Personal Reports to only see the reports generated by your own activities in the Hunger Games.
Battle Statistics and Boosts
Edit
This section shows you stats relevant to your own activities within the Hunger Games such as

Max Kills
Kill Streak
Wins
Losses
Reputation
Credits
Once you are ready to go click Fight on the lower right of the Ragnarok Menu.
Participating in the Ragnarok
Edit
The Ragnarok is open between 7pm-8pm and will consist of 50 rounds.
Battle Prizes
Edit
Each battle you participate in will earn you Reputation and Credits.
It's also the name of a Water Realm guild at server 4
Ad blocker interference detected!
Wikia is a free-to-use site that makes money from advertising. We have a modified experience for viewers using ad blockers

Wikia is not accessible if you've made further modifications. Remove the custom ad blocker rule(s) and the page will load as expected.