Fragments 
Fragments are a random reward in the Rune Temple. 
Fragments can be obtained from the Advanced & Legendary Rune-keeper's at random , Or by summoning the Advanced Or Legendary Rune-keeper for 200Gems gaining : 1x Rune & 1x Rune Fragment.
On the Rune page in the bottom right hand corner , you will see the amount of Rune Fragments you own , and a small REDEEM button.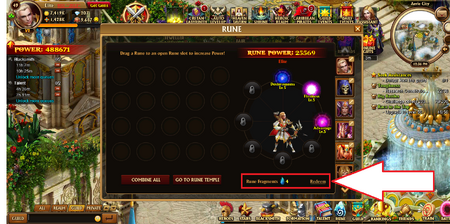 Upon selecting 'Redeem' you will be taken to the Rune shop where you can purchase runes using you're Rune Fragments.
The rune shop includes every rune , however you can only purchase Purple(Tier 3) & Yellow(Tier4) runes with the exception of 3x Tier5(multi attribute runes). 
Purchasable runes :
Tier 3 Runes : 5 Fragments
Tier 4 Runes : 20 Fragments
Tier 5 Runes : 100 Fragments
( Tier 5 runes require Lvl 60. )
Ad blocker interference detected!
Wikia is a free-to-use site that makes money from advertising. We have a modified experience for viewers using ad blockers

Wikia is not accessible if you've made further modifications. Remove the custom ad blocker rule(s) and the page will load as expected.