After reaching level 30 & upon completion of the Dark Tower quest a new Female NPC will appear between the Gem Chip Vendor and the Armor Vendor near the fountain in central Aerie City near the Aerie Castle. You will receive a prompt of her existence as a mini-quest. Her name is Ramira Houssier.
Accessing the Fair
Edit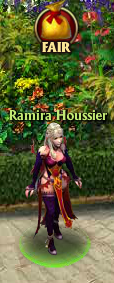 Ramira is between Ruby Stonefield and Laura. Click on her (or the fair button over her) then click access fair.
What You Can Find
Edit
The fair consists of 16 offers available for to choose from, a new offer shows up every 30 minutes to replace the oldest offer regardless of anything being purchased. Items are purchased from the Fair using Gems, Credits and Coins.
Every Fair is unique to each player in the game. Specifically offers in your Fair are only available to you, you cannot see or purchase from a Fair belonging to another player in the same respect they cannot see or purchase from yours.
Items available in the Fair are a mix of every possible item available in the game that you can purchase with Gems, items used for upgrading Weapons and Armor is not available for purchase from the Fair.
See the screenshot below for an example of what a Fair menu looks like.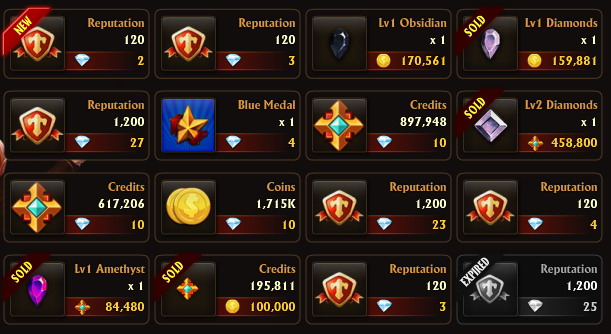 Additional Notes
Edit
The above needs fleshing out and more detail.  Please either edit yourself or post or email me with your clarifications and additional information.
Ad blocker interference detected!
Wikia is a free-to-use site that makes money from advertising. We have a modified experience for viewers using ad blockers

Wikia is not accessible if you've made further modifications. Remove the custom ad blocker rule(s) and the page will load as expected.