Servers, also known as "Worlds," are instances of the world of Tynon on which players reside. Multiple servers exist because the population of the game is too great to share a single server.
Listing of Known Servers
Edit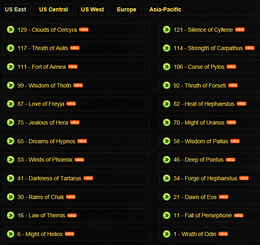 As of July 16, 2013 there are currently 26 active servers. 25 of them are standard servers used by the public, while the test server is used for testing experimental features and hypothetical scenarios, and is available only to approved testers and Game Developers.
As of 9/17 there are 129 servers.

Servers currently in service are as follows:
ID
Name
Activation Date
Note
10
Scales of the Ice Dragon
June 18, 2013
Serves Asis-Pacific
09
Light of Ra
Serves US West
06
Might of Helios
June 17, 2013
Serves US East
07
Bow of Athena
Serves US Cental
08
Wings of Hermes
Serves Europe
01
Wrath of Odin
June 13, 2013
Serves US East
02
Blaze of Fire Dragon
Serves US Central
03
Hammer of Thor
Serves US West
04
Thunder of Zeus
Serves Europe
05
Trident of Poseidon
Serves Asia-Pacific
--
Beta (Test Server)
May 20, 2013
Public Testing of new functions by players prior to public release. This was also the original server before the launch of the game to the live version.
--
(Test Servers)
Central US
UCT10, UCT08, UCT091, UCT09, UCT101, UCT081
Western US
UCT07, UCT071
Eastern US
UCT06, UCT061
Europe
UCT20, UCT201, UCT119, UCT12, UCT121
Asia-Pacific
Beta1, Beta2, Beta4, UCT111
Unknown
These servers include previous incarnations of the current live beta server, they also include servers for future release with no name. Their activation date is unknown.
Pages in category "Servers"
The following 26 pages are in this category, out of 26 total.
A

B

D

F

H

L

M

S

S cont.

T

V

W
Ad blocker interference detected!
Wikia is a free-to-use site that makes money from advertising. We have a modified experience for viewers using ad blockers

Wikia is not accessible if you've made further modifications. Remove the custom ad blocker rule(s) and the page will load as expected.