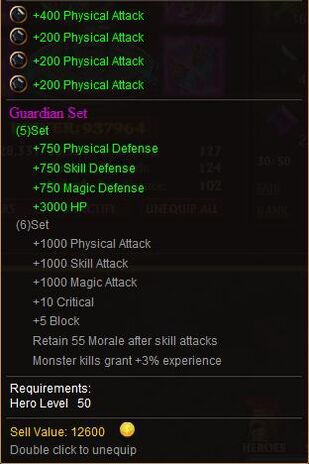 The guardian set is for level 50 heros or above.
All pieces are crafted using the Level 40 Champion Set gain previously.
Having 5 or pieces at Guardian level (or higher) gains defensive bonuses.
Having all 6 at Guardian level (or higher) gains attack bonus as well as other abilities listed in picture to right.
All guardian ggear can have up to 4 Gem chips added to it to further enhance it (4th slot costs 20 gems to open)
Pages in category "Guardian Set"
The following 2 pages are in this category, out of 2 total.
Ad blocker interference detected!
Wikia is a free-to-use site that makes money from advertising. We have a modified experience for viewers using ad blockers

Wikia is not accessible if you've made further modifications. Remove the custom ad blocker rule(s) and the page will load as expected.